RFF Phalloplasty
Radial Forearm Flap Phalloplasty Surgery
Radial forearm flap is the most common type of FTM phalloplasty. The donor site is thin and supple allowing the flap to be easily tubed and shaped into a penis, and the relatively hairless skin provides erogenous sensation and allows urethral reconstruction in a single stage.
The radial forearm donor site can be closed using a split thickness unmeshed skin graft harvested from the thigh or a full thickness graft from the buttocks.
A Foley catheter is left in place for at least 2 weeks to reduce the risk of stricture and fistula formation while the neo-urethra is healing.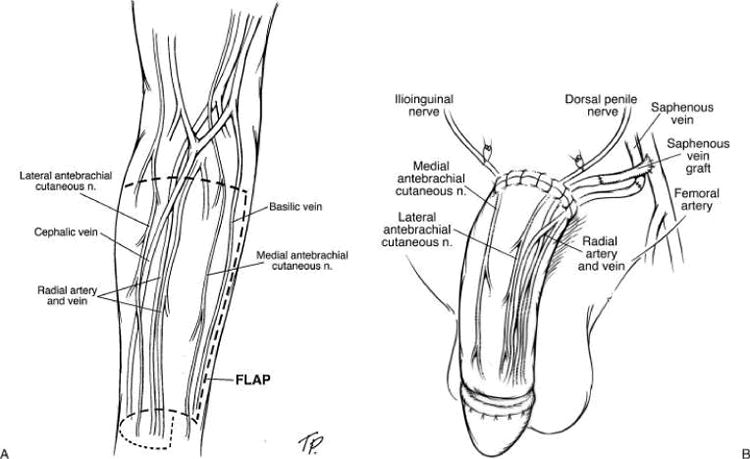 (A) the outline of the radial forearm phalloplasty flap on the arm. The lateral and medial antebrachial cutaneous nerves can be coapted to the ilioinguinal and dorsal penile nerves. The radial artery of the flap can be anastomosed to either the profunda femoris, lateral circumflex femoral, circumflex iliac, or the inferior epigastric artery. The venae comitantes and the cephalic vein of the flap can be anastomosed to branches of the greater saphenous vein. (B) Illustration of the flap following inset, anastomosis, and coaptation. Source: Semin Plast Surg. Aug 2011; 25(3): 196–205.
Aesthetics can be refined with glansplasty: the creation of a corona using a local flap and full thickness skin graft. Tattooing of the corona to match the color of the areola can be done 3 months before sensation returns.
Erectile function can be achieved using a penile prosthesis inserted at a second procedure 10 to 12 months later after tactile sensation has been restored.
Disadvantages: Donor site can be difficult to conceal.
Possible complications: Partial skin graft loss, decreased sensitivity, swelling, less range of hand motion (resolved with hand therapy), decreased grip strength.
The RFF Phalloplasty procedure is offered by the following surgeons:
United States:

Dr. Loren Schechter - Illinois, US
Dr. Curtis Crane - Texas, US
Dr. Chen - California, US
Dr. Berli - Oregon, US
Dr. Salgado - Florida, US
Dr. Gottlieb - Illinois, US
Dr. Bluebond-Langner - New York, US
Dr. Ting - New York, US
Dr. Hansen & Dr. Garcia - California, US
Dr. Kuzon - Michian, US
Dr. McCammon - Virginia, US
Dr. Greenwald - Florida, US

Dr. Kamol Pansritum - Thailand
Dr. Narendra Kaushik - India
Dr. Monstrey & Dr. D'Arpa - Belgium
Dr. Ralph & Dr. Christopher - London, UK
Dr. Brassard & Dr. Belanger - Montreal, Canada
Dr. Bouman & Dr. Buncamper - The Netherlands
Dr. Daviero - Germany
Dr. Morel-Journel - France

Dr. Binder & Dr. Desgrandchamps - France
Dr. Lundgren & Dr. Sigurjónsson - Sweden
Dr. Mañero - Spain
Dr. Ferreira - Portugal
Dr. Stasevich - Belarus
Dr. Sukit - Thailand
Dr. Telang - India
Dr. Gupta - India
Dr. Chandra - India
Radial Forearm Phalloplasty Cadaver Demonstration Video
Journal Articles
Penile Reconstruction with the Radial Forearm Flap: An Update.
M Doornaert, P Hoebeke, P Ceulemans, G T'sjoen, G Heylens, S Monstrey
Department of Plastic Surgery, Gent University Hospital, Gent, Belgium. (Handchir Mikrochir Plast Chir. 2011 Aug ;43 (4):208-214 21837613)
Phalloplasty in female-to-male transsexuals: experience from 259 cases
Baumeister S, Sohn M, Domke C, Exner K. Handchir Mikrochir Plast Chir. 2011 Aug;43(4):215-21. doi: 10.1055/s-0030-1267965. Epub 2011 Aug 11. [Article in German]
Penile Reconstruction: Is the Radial Forearm Flap Really the Standard Technique? -
Monstrey, Stan; Hoebeke, Piet; Selvaggi, Gennaro; al etc. (Journal of Plastic and Reconstructive Surgery, Volume 124 Issue 2, August 2009)
Total Phallic Construction in Female to Male Transsexuals
Giulio Garaffa, Nim A. Christopher, David J. Ralph (Current Urology, Vol. 3, No. 3, 2009)
Donor-Site Morbidity of the Radial Forearm Free Flap after 125 Phalloplasties in Gender Identity Disorder - [longer article preview]
Selvaggi, G., Monstrey, S., Hoebeke, P. | Plast Reconstr Surg | vol. 118, 1171 - 1177, 2006
Last updated: 01/11/17