Dr. Kamol Pansritum
One of the Most Experienced GRS Surgeons in the World
Dr. Kamol Pansritum, MD is recognized as one of the most experienced GRS Surgeons in the world, having completed over 15,000 gender reassignment surgeries and related surgical procedures for both trans men and women since 1997.
Dr. Kamol is board-certified and a member of several national medical associations in Thailand. His expertise is backed by International standards level medical training.
Dr. Kamol is the Chief Plastic Surgeon at Kamol Hospital in Bangkok, Thailand. (He also has surgical privileges at Ramkhamhaeng and Sukhumvit Hospitals.) Kamol Hospital is a world-class, JCI-Accredited facility that is equipped with the latest in medical equipment and technology. Kamol Hospital's operating rooms, patient rooms and lobbies are all modern and spacious. Kamol Hospital also offers luxury recovery apartments, for the comfort, convenience and safety of being close by your surgeon during your Phalloplasty recovery, as well as airport transfers to and from Kamol Hospital.
"I am a RN so I was skeptical at first that the level of care, cleanliness and professionalism would meet the standards that I was used to. Well, not only did the standards meet my expectations, they exceeded them. The clinic was far cleaner than any hospital or clinic that I had ever been in. The staff were top notch and very professional. My nurse, Lin was one of the most competent nurses that I have ever met."
– Dr. Kamol Patient
Dr. Kamol performs three different methods of FTM Phalloplasty:
1) Combined ALT Phalloplasty, with Forearm Graft for Neo-Urethra
Stage 1: Anterolateral Thigh Flap - Pedicled technique without need for microsurgery for lower risks. Includes Urethroplasty and Scrotoplasty. Urethra is constructed using a small radial forearm graft. Thigh is covered with split thickness skin graft.
Stage 2: In 6-12 months, Penile and Testicular Implants, if desired.
The best results are typically achieved in patients who are thin or near their ideal body weight.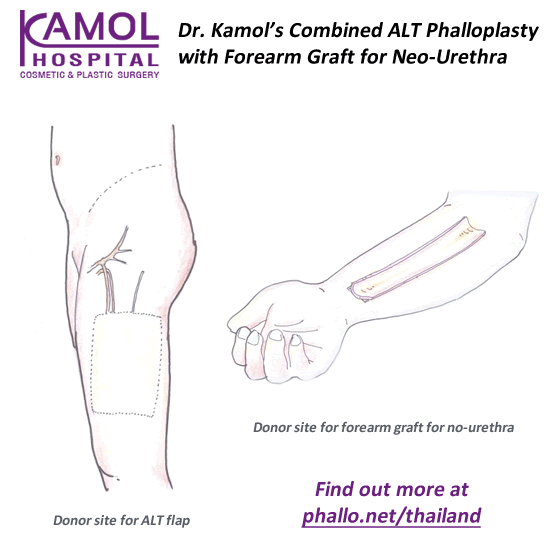 2) Radial Forearm Flap (RFF) Phalloplasty
Stage 1: Radial Forearm Flap with microsurgery.
Stage 2: In 6-12 months, Penile and Testicular Implants, if desired.
Patients with thin, small forearms are less suited to this procedure.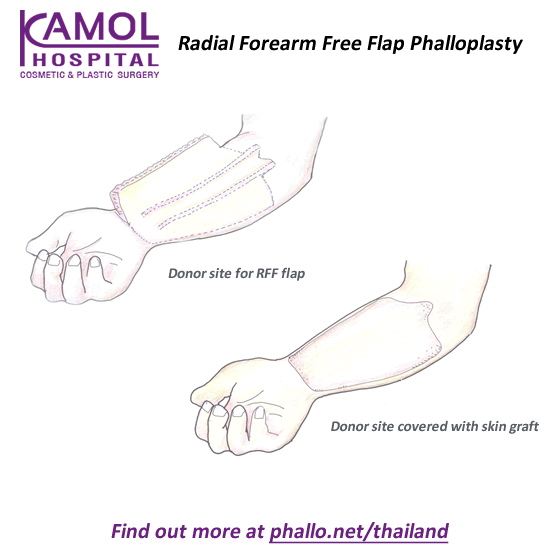 3) Fibula Free Flap Phalloplasty
Stage 1: Pre-lamination of urethral graft.
Stage 2: 6-18 months later, penis is constructed with graft from lower leg. Fibula bone is incorporated into the penis for rigidity (instead of Penile Implant.)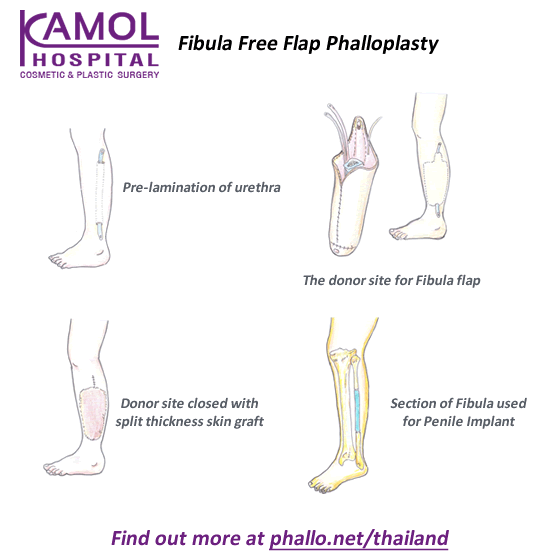 Urethral Lengthening is performed using either a vaginal mucosa flap (VMF) technique or a inner labia and local flap (ILLF) technique. VMF offers a lower complication rate but must be performed separately from Stage 1 Phalloplasty. ILLF can be done during Stage 1 Phalloplasty but comes with increased risk of urethral complcations.
Scrotoplasty is performed using labia majora tissue. Tissue Expanders can be used before implantation of Testicular Implants. This helps stretch the neo-scrotum to accommodate the implants.
For trans men looking to complete Female-to-Male surgical solutions, Dr. Kamol offers the full spectrum of FTM procedures:
FTM Top Surgery
Hysterectomy
Metoidioplasty
Body Sculpting
Facial Masculinization Surgery (FMS)
Consultations: Contact Dr. Kamol to arrange your in-person FTM Phalloplasty consultation. The consultation fee is $30 USD, and your surgery can be booked within days of your consultation.
Payment: Cash, all credit cards, wire transfer and Western Union are accepted.
Surgery Requirements:
Minimum age of 20. (For patients aged 18 & 19, parental consent is required.)
1 Year of HRT
1 Year of RLE
History of gender dysphoria
Support letter from mental health professional
Good general health