Abdominal Phalloplasty
Abdominal Phalloplasty, also referred to as Supra-Pubic Phalloplasty, is a good choice for trans men who do not necessarily require urethroplasty or vaginectomy but would like a phallus suitable for penetrative sex.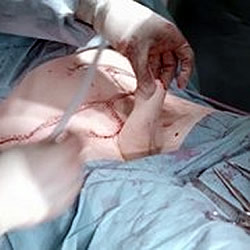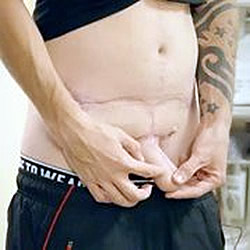 As a pedicled Phalloplasty procedure, this surgery does not include microsurgical nerve connection. Arteries, veins and nerves are left intact and patients can expect to have tactile sensation but not erotic sensation. However, erotic sensation from the clitoris is preserved, which is either left in place or buried, and can be directly stimulated.
The graft leaves a horizontal scar that runs from one side of the pelvis to the other. Electrolysis is usually required, and helps to create a more natural looking appearance of the phallus.
Benefits of this type of phalloplasty include:
Concealed graft site
No secondary graft required
Shorter operative time and recovery
No urethral complications (since urethroplasty is not typically performed)
Less expensive than microsurgical phalloplasty
Some surgical teams will offer urethroplasty as as secondary procedure, using tissue from the forearm, mouth or vagina. Similarly, some surgeons will offer vaginectomy with this procedure.
Surgeons who offer Abdominal Phalloplasty:
Dr. Kathy Rumer (PA)
Dr. McGinn (PA)
Dr. Leis (PA)
Dr. Ralph & Dr. Christopher (UK)
Dr. Kaushik (IN)
Dr. Chandra (IN)
Related: Bird-Wing Abdominal Phalloplasty
NEW! Surgical Outcomes and Patients' Satisfaction with Suprapubic Phalloplasty
Terrier, J.-É., Courtois, F., Ruffion, A. and Morel Journel, N. (2014), Journal of Sexual Medicine, 11: 288–298. doi: 10.1111/jsm.12297
The aim of this study was to assess the outcomes and satisfaction of patients offered the choice between metaidioplasty, forearm free flap, and suprapubic phalloplasty. Suprapubic phalloplasty, despite the lack of urethroplasty, offers an interesting alternative for patients concerned with the stigmatizing scar on the donor site.
References: Pedicled pubic phalloplasty in females with gender dysphoria.
Bettocchi C, Ralph DJ, Pryor JP. BJU Int. 2005 Jan;95(1):120-4.
Between 1989 and 2000, 85 female-to-male transsexual patients had a phalloplasty fashioned from suprapubic abdominal wall flap that was tubed to form the phallus, and which incorporated the neourethra made from a pedicled tube of labial skin.
Last updated: 04/29/16