MLD Phalloplasty
Musculocutaneous Latissimus Dorsi Flap Phalloplasty
The musculocutaneous* latissimus dorsi (MLD) flap utilizes part of a back muscle and includes the thoracodorsal vessels and nerve. The blood supply is connected to the femoral artery and saphenous vein or the deep inferior epigastric artery and vein, while the nerve is connected to the ilioinguinal nerve.
Only a thin strip of muscle around the pedicle is harvested. The scar is a long, mostly linear scar that runs from under the arm, slightly curved, down to the lower back. In most cases, the donor site can be closed primarily with the incision; sometimes a split thickness skin graft is needed.
This technique yields a penis that is 13-16cm in length and 10-12cm in girth.
Urethroplasty is typically done in two stages: primary urethral lengthening and secondary urethral lengthening. Some surgeons will incorporate a buccal mucosa graft.
Placement of a penile implant can also be done in a later stage. Dr. Vesely from the Czech Republic has described the innervation of the latissimus for erectile function.
Advantages: Low donor site morbidity, easily concealed scar, relatively hairless donor site, good aesthetic outcomes.
Disadvantages: With innervation via a motor nerve, sensation is less than what's typically achieved with RFF phalloplasty (but is usually better than abdominal and groin flap phalloplasty.)
MLD phalloplasty is offered by the following surgeons:
Dr. Bluebond-Langner - New York, US
Dr. Djinovic - Serbia
Dr. Djordjevic - Serbia
Dr. Vesely - Czech Republic
Dr. Stasevich - Belarus - Thoracodorsal flap phalloplasty
Dr. Pandey - India
VIDEO: Total Phalloplasty Using a Musculocutaneous Latissimus Dorsi Flap
Oct 6, 2009 / Duration: 08:30 / Views: 1538
Authors: Sava V. Perovic, Rados P. Djinovic, Marko Z. Milosavljevic
Institution: Department of Urology, School of Medicine, University of Belgrade, Serbia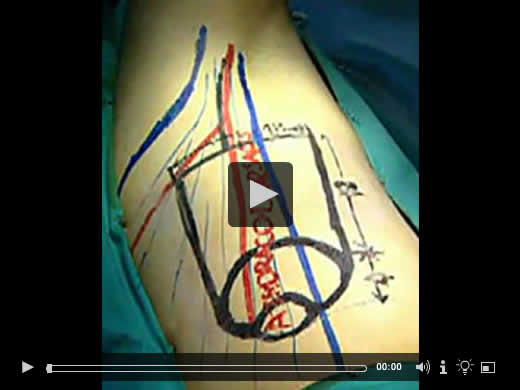 Journal Articles
Total Phalloplasty Combined with Metoidioplasty As a One-Stage Procedure in Female-to-Male Transsexuals: Is It Possible?
M. Djordjevic, D. Stanojevic, V. Kojovic, M. Bizic and M. Majstorovic. Belgrade Gender Dysphoria Team, School of Medicine, University of Belgrade, Serbia. Poster (PDF) presented at the 13th Congress of the European Society for Sexual Medicine.
Total phalloplasty in female transsexuals: technique and outcomes.
Djordjevic M., Kojic S., Stanojevic D., Jocic D., Bizic M. Eur Urol Suppl 2011;10(9):579.
Combined total phalloplasty and metoidioplasty as a single stage procedure in female to male gender reassignment surgery.
Kojovic V, Bizic M, Majstorovic M, Kojic S, Stanojevic D, Korac G, Djordjevic M. EurUrolSuppl, 2009;8(8):648
Total Phalloplasty Using a Musculocutaneous Latissimus Dorsi Flap
Sava V. Perovic, Rados Djinovic (British Journal of Urology, Reconstructive Urology, Volume 100 Issue 4, Sep 2007)
RELATED:
* The "myocutaneous" or "musculocutaneous" flap combines muscle, skin, and the intervening fascia and subcutaneous tissue. Supplied by one or more dominant vascular pedicle within the muscle instead of a direct cutaneous arterial source, the essential feature of a myocutaneous flap is that the underlying muscle "carries" the blood supply for the overlying skin. Myocutaneous flaps have two key advantages. First, the increased bulk better allows it to fill dead space. Secondly, myocutaneous flaps are also more resistant to bacterial infection than fasciocutaneous flaps by a factor of 100. This makes them very reliable and useful, particularly when increased bulk is needed with a robust arterial supply to fill a defect that has been subjected to chronic infection. If a skin paddle is not needed, muscle can also be transferred alone, without the overlying fascial and cutaneous tissue. - Principles of Surgical Flaps
Last updated: 01/11/17