Fibula Free Flap Phalloplasty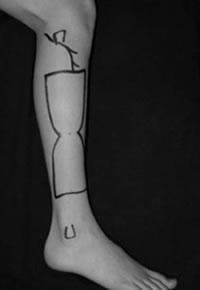 Dr. Sadove et al were the first surgical team to use the free fibula flap for phalloplasty in 1992. Free fibula flap (FFF) phalloplasty is a good alternative to the radial forearm phalloplasty for patients who do not want a forearm scar. FFF phalloplasty presents several benefits:
Less prominent scarring;

Natural rigidity of the free fibula flap;
Length of the flap's vascular pedicle.
Sensation: Tactile sensation in the dorsal aspect of the neo-phallus (and some of the ventral aspect) is provided by re-innervating the flap with the lateral sural cutaneous nerve (LSCN). The LCSN may be connected to one of the two dorsal clitoral nerves. While some patients claim erotic sensation, this is not the expected result, and for this reason the contralateral clitoral dorsal nerve and the clitoris should be left untouched in FTM transsexuals to preserve erogenous sensation.
Rigidity: With phalloplasty, obtaining rigidity to allow for sexual penetration is difficult and generally relies on the implantation of an erectile device. Inspired by the penis bone found in animals such as dogs, Dr. Sadove devised the use of the osteocutaneous fibula flap. The harvested fibula bone is transplanted and fixed to the pubic symphysis.
The condition of this fully vascularized osseous flap was found to be favourable after up to 1 year of follow-up, there are risks of resorption, curving and fracture of autologous bone transplants. Furthermore, the rigid appearance of the phallus can be difficult to conceal and may be a source of embarrassment to the patient.
Aesthetics: Secondary surgery is typically required to slim down the phallus. Glansplasty is further recommended. If the patient desires, the clitoris can be buried. The skin of the phallus will grow hair so the patient may also choose to shave to improve aesthetics.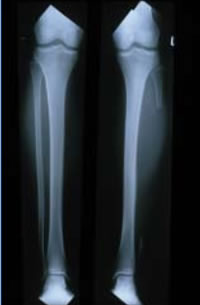 Functional Loss In Donor Area: Some patients reported some ankle instability when standing on one leg, as well as discomfort in the donor area and at the medial aspect of the distal tibia when running.
The FFF Phalloplasty procedure is offered by the following surgeons:
Dr. Schaaf (DE)
Dr. Şengezer (TR)
Journal Articles
Phalloplasty in Complete Aphallia and Ambiguous Genitalia
Rachel Bluebond-Langner, M.D. and Richard J. Redett, M.D. Semin Plast Surg. 2011 August; 25(3): 196–205.
13 Years Experience with Free Fibula Flap Phalloplasty
Sengezer M, Ozturk S, Deveci M, and Zor F. Department of Plastic and Reconstructive Surgery, Gülhane Military Medical Academy, GATA Plastik Cerrahi AD, Etlik, Ankara, Turkey
Phalloplasty with free (septocutaneous) fibular flap sine fibula.
Dabernig J, Chan LK, Schaff J. J Urol. 2006 Nov;176(5):2085-8.
Phalloplasty with free osteocutaneous fibular flap in a transsexual case.
Yavuzer, Reha. Plastic & Reconstructive Surgery: September 1999 - Volume 104 - Issue 3 - p 890
Fibula free flap phalloplasty: modifications and recommendations. [Full PDF]
Hage JJ, Winters HA, Van Lieshout J. Microsurgery. 1996;17(7):358-65.
One-stage total penile reconstruction with a free fibula osteocutaneous flap.
Sadove RC, Sengezer M, McRoberts JW, Wells MD. Plastic and Reconstructive Surgery 92:1314–1323, 1993.
Total phallic reconstruction with the free fibula osteocutaneous flap.
Sadove RC, McRoberts JW. Plastic and Reconstructive Surgery 89: 1001, 1992.
Last updated: 04/29/16