Penile Implants
AMS 700 Series Penile Implants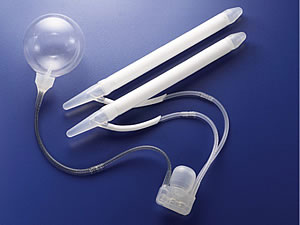 The AMS 700 Series are 3-piece inflatable penile implants with the the cylinders in the penis, the reservoir in the abdomen, and the pump and release valve in the scrotum. Saline is pumped from the reservoir into the cylinders to create an erection. To return to a flaccid state, press the deflation site on the pump and the saline will flow back into the reservoir. This system "feels" closest to a non-assisted erection. It provides superior rigidity and flaccidity.
The AMS 700 is available in a variety of models and sizes for a custom fit. This model features a tactile pump with EZ grip surface, InhibiZone™ Antibiotic Surface Treatment, plus a special wear-reducing Parylene micro coating that increases the reliability and durability of the cylinders.
The AMS 700 Series consists of three models for three different patient types:
700CXTM—Controlled expansion cylinders allow for increased girth; can be used in all patient types that are able to receive a 3-piece prosthesis

700 UltrexTM—For the patient who wants expansion in girth and length; provides up to 20% cylinder elongation.
(Note: Transgender men generally do not experience expansion in girth and length with any implant.)

700 CXRTM—The narrowest proximal profile of any inflatable prosthesis; for scarred, fibrotic or stenotic patients
AMS 700 Patient Education Video
Also see: Video demo of inflation and deflation of the AMS 700 series penile implant
For more information, visit AmericanMedicalSystems.com.
(Images courtesy of American Medical Systems Corporation, Minneapolis, MN.)
Back to Penile Implants Product Guide »