Dr. Narendra Kaushik
FTM Phalloplasty In India
Dr. Narendra Kaushik is a plastic, cosmetic and reconstructive surgeon who has 15 years of experience with FTM Surgery procedures, including various methods of Phalloplasty. He operates on trans men from India as well as medical tourism patients from abroad.
Dr. Kaushik is the founder and director of New Delhi-based, Olmec – The Premier Transgender Surgery Institute, the first centre of its kind in India that is certified by the International Board of Medicine and Surgery (IBMS).
Dr. Kaushik has extensive medical training and maintains memberships in Indian and International medical organizations, including the World Professional Association for Transgender Health (WPATH). He was awarded for his Paper Presentation at an International Conference, "Female to Male Sex Change Surgery - No More a Challenge."

Dr. Kaushik performs the following types of FTM Phalloplasty:
Radial Forearm Flap Phalloplasty (RFF)
Anterolateral Thigh Phalloplasty (ALT)
Musculocutaneous Latissimus Dorsi Phalloplasty
Abdominal Phalloplasty
Between 2012 and 2016, Dr. Kaushik performed 21 FTM Phalloplasties. Dr. Kaushik also offers Scrotoplasty, Testicular Implants and Penile Implant Surgery. Dr. Kaushik uses semi-rigid malleable implants as well as the 2- and 3-piece hydraulic implants.
Watch an operating room video of Dr. Kaushik performing RFF Phalloplasty »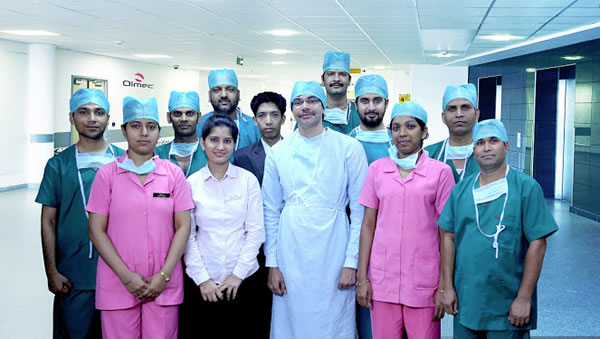 Consultations
Dr. Kaushik is available for phone and in-office Phalloplasty consultations. Dr. Kaushik's wait list for surgery dates is 2-4 weeks depending on the procedure(s). Book your consultation here.
Payment of Fees
Dr. Kaushik accepts cash, credit cards (MasterCard, Visa, American Express and Discover), bank transfer, debit card and PayPal.
Surgery Requirements
Dr. Kaushik follows WPATH guidelines for surgery. You will require letters of recommendation from qualified healthcare providers, and you must be physically fit and cleared for anesthesia.
---
Dr. Narendra Kaushik
Olmec - The Transgender Surgery Institute
JD Block 2nd Floor 3c, Gate No 2 Ashiyana chowk, Lala Jagat Narayan Marg
New Delhi, Delhi, 110034, IN
Phone: +91 96500 23401