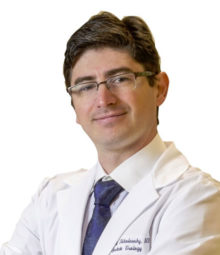 Dr. Dmitriy Nikolavsky
Skilled Reconstructive Urologist Specializing in Transgender Urology
Dr. Dmitriy Nikolavsky is a Reconstructive Urologist who treats post-operative urinary complications for patients who have undergone FTM Phalloplasty with urethral construction. Dr. Nikolavsky also provides long term follow-up care for these patients.
Dr. Nikolavsky is an Assistant Professor of Urology and the Director of the Reconstructive Urology department at SUNY Upstate Medical University, in Syracuse NY. He is a Diplomat of the American Board of Urology (2014), and has authored and co-authored numerous academic articles on Reconstructive Urology. In 2015, Dr. Nikolavsky visited countries around the world as an invited conference speaker, including Peru, Portugal and Russia where he spoke about urethral reconstruction for strictures in FTM phalloplasty and the urological considerations of radial forearm phalloplasty.
Dr. Nikolavsky maintain memberships with several professional organizations including:
American Urological Association (AUA)

Society of Genitourinary Reconstructive Surgeons (GURS)

World Professional Association for Transgender Health (WPATH)
Common urinary complications after FTM Phalloplasty include strictures, fistulas and abscesses. These complications can significantly affect quality of life, and repair surgeries are complex, especially if the patient is experiencing multiple concurrent complications.
The role of the Reconstructive Urologist in this context is to diagnose patients presenting with post-operative urinary conditions, and provide a solution to correct the condition and restore normal urinary function.
Dr. Nikolavsky regularly connects with Phalloplasty surgeons as well as other Reconstructive Urologists to stay current on the best practices in transgender urology. Plus, the nurses and office staff at the Reconstructive Urology department at SUNY are experienced in working with transgender men.
Do You Need a Reconstructive Urologist?
Dr. Nikolavsky does a free initial consultation by phone. Surgery dates can be secured with very short notice. Contact Dr. Nikolavsky by submitting the inquiry form on this page.
Recent publications:
Urologic Sequelae Following Phalloplasty in Transgendered Patients.
Nikolavsky D, Yamaguchi Y, Levine JP, Zhao LC. Urol Clin North Am. 2017 Feb;44(1):113-125.
Transgender patients at various stages of their transformation will present to urologic clinics requiring general or specialized urologic care. Knowledge of specifics of reconstructed anatomy and potential unique complications of the reconstruction will become important in providing urologic care to these patients. In this article, we have concentrated on describing diagnosis and treatment of the more common urologic complications after female-to-male reconstructions: urethrocutaneous fistulae, neourethral strictures, and symptomatic persistent vaginal cavities.