Penile Implants
ZSI 100 FTM Malleable Penile Implant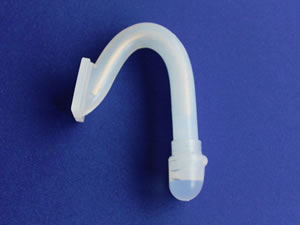 The ZSI 100 FTM is the first-ever penile implant designed specifically for trans men!
Made by Zephyr Surgical Implants of Switzerland, the ZSI 100 FTM Malleable Penile Implant is designed to provide excellent stability and cosmetic results.
The ZSI 100 FTM is made of NUSIL silicone which is manufactured at a density that is ideal for longterm durability, malleability and providing a lifelike erection.
The implant is adjustable at the distal end from 16cm to 13cm. A 25mm wide, realistically shaped glans "stopper" is affixed to the tip of the implant. The cylinder is 22mm wide and designed for comfort and appearance. The ZSI 100 FTM's proximal part is made of silicone and stainless steel and is fixed to the pubic bone.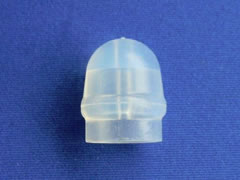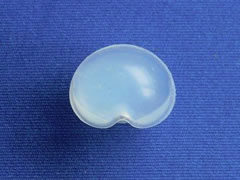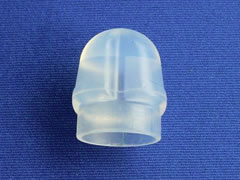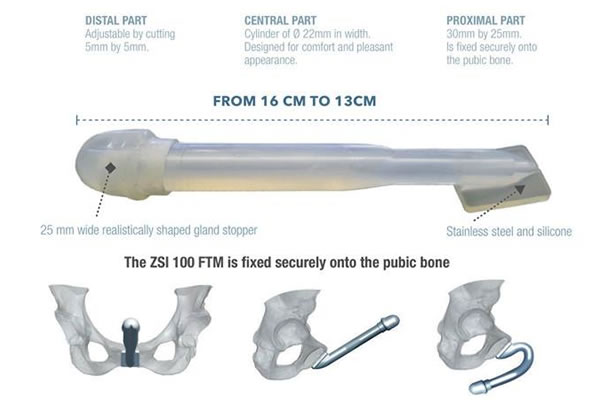 The implant functions like other semi-rigid implants to obtain an erection: manually straighten and lift the penis to an erect position. Return to the bent position for a flacid penis.
Zephyr also have a hydraulic penile implant for trans men, the ZSI 475 FTM Hydraulic Penile Implant.
Note: Zephyr penile implants are not available in the USA at this time and ZSI is not currently seeking FDA approval. Trans men wanting a ZSI implant will need to travel to Europe, Canada, Cuba or South America, where they are available.
Follow Zephyr on Facebook here.
(Images courtesy of Zephyr Surgical Implants, Switzerland.)
Back to Penile Implants Product Guide »