Penile Implants
AMS Spectra Concealable Penile Prosthesis (2009)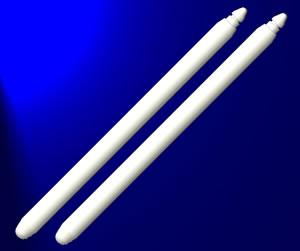 The AMS Spectra is a non inflatable, semi-rigid penile implant. This type of implant is always firm and provides an erection by bending the penis into an erect position. Benefits of semi-rigid penile implants are that they are the simplest type to surgically implant, and not surprisingly they're also the most affordable penile implant. Because they have fewer mechanical parts compared to inflatable implants, semi-rigid implants like the AMS Spectra typically have a long life span (up to and over 20 years in cis gender men, but potentially shorter with transgender men.)
The AMS Spectra prosthesis provides simplified sizing, ease of placement and superior concealment and rigidity. It consists of a pair of cylinders, each with a center malleable section of articulating polymer and metal segments, with a cable extending through the center of these segments. The ends of the cable are each connected to a spring that is encased in a metal housing. The entire outside surface of the cylinders is made of silicone.
Other features of the AMS Spectra:
Unique spring and cable design
Easy cylinder length adjustment with Snap-fit Rear Tip Extenders (RTEs)

Multiple diameter and length configurations for a wide range of patient sizes; 0.5 cm length increment adjustability.

MRI compatible

Shaped to provide good cosmetic result
Diameter: 9.5 mm, 12.0 mm, and 14.0 mm
Length: 12.0 cm, 16.0 cm, and 20.0 cm
For more information, visit AmericanMedicalSystems.com.
(Images courtesy of American Medical Systems Corporation, Minneapolis, MN.)
Back to Penile Implants Product Guide »